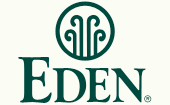 ©2016 Eden Foods, Inc.
www.edenfoods.com
DLT (Dulse, Lettuce & Tomato) Sandwich
Serves 2 | Prep Time 10 minutes | Cook Time 15 minutes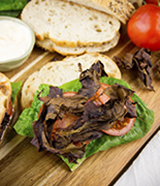 Ingredients
1/4 package Eden Whole Leaf Dulse, abt 1/3 oz.
4 slices organic whole grain bread
1 medium organic tomato, sliced
4 lettuce leaves
1/4 cup organic tofu mayonnaise
Directions
Preheat the oven to 400°. Place the dulse on a baking sheet and bake for 15 until crisp. Remove dulse from the oven. Toast the bread in a toaster. Spread mayonnaise on two slices of toasted bread and top with lettuce, tomato and baked dulse. Spread mayonnaise on the remaining bread and place on top of sandwich. Slice and serve.
Nutritional Information
Per serving: 249 calories, 7g fat (28% calories from fat), 9g protein, 34g carbohydrate, 8g fiber, 0mg cholesterol, 396mg sodium
Related Recipes
American, Good/High Fiber, Good/High Protein, Macrobiotic, Main Course, No Sweetener Added, Sea Vegetables, Vegan, Whole Grain