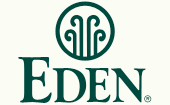 ©2016 Eden Foods, Inc.
www.edenfoods.com
1,100+ Eden created, kitchen tested recipes. Browse by course, cuisine, diet considerations, ingredient, or keyword. Create favorites list, email to friends, and share on Facebook. Nutritional data for each.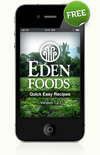 Take them with you with the new Eden Recipes iPhone® iPad® App. This multifunctional app has all of the tools listed above, as well as articles on important issues such as BPA and GMOs, and complete profiles of all 300+ organic, specialty, gourmet, and traditional pure foods offered by Eden. And it's FREE!



Quinoa Blueberry Walnut & Garbanzo Salad
Serves 6 | Prep Time 45 minutes | Cook Time 15 minutes
Nutritional Information (per serving):
303 calories, 9g fat (27% calories from fat), 9g protein, 46g carbohydrate, 12g fiber, 0mg cholesterol, 342mg sodium