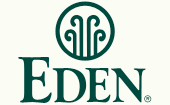 ©2015 Eden Foods, Inc.
www.edenfoods.com

Eden Foods has partnered with Constant Contact to dispatch mailings and handle response data on our behalf. You may unsubscribe from our mailing list at any time by following the simple instructions included at the bottom of every message.
Please contact us if you have any questions or concerns.