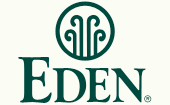 ©2015 Eden Foods, Inc.
www.edenfoods.com

Would you like to receive our eNewsletter and occasional emails highlighting special promotions, etc? Just enter your email address below. You will receive a confirmation message with a link to click to confirm your subscription, and that's it.
---
Read Previous Editions
» Click Here to read previous editions of our newsletter.