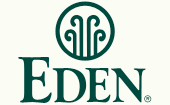 Donation/Sponsorship Request Form
Eden Foods recognizes there are events and causes worthy of our support. We strive to focus our resources in areas related to life giving food. One of Eden's company goals is: "To cultivate sound relationships with other organizations and individuals who are like minded and involved in like pursuits." Please see Eden's goals here.
If you are requesting a donation, please complete the following application to help us determine our response to your request. Donation requests should be made as early on as possible, and no later than 90 days prior.
Please note that Eden Foods promotes and/or sponsors many events throughout the year. Coordination of multiple events requires staff, time, and funding. Although we'd like to sponsor all worthy events, we have limited resources. No matter what our determination, or perhaps with questions, we will strive to respond within 10 business days.