Regrettably, there is a long-standing practice of "Don't ask. Don't tell." in the natural products industry regarding genetically engineered derived food and ingredients. Most commonly, inquiries are deflected by simply saying that GMOs are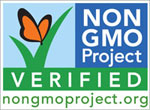 "not allowed in the USDA organic program" even though no one is testing or doing anything to avoid them.
Recently, the Non-GMO Project (The Project) was created by industry members from all of its sectors in the USA and Canada. Eden Foods being one. The Project provides consumers and makers a 3rd party non-GMO verification program through all levels of the supply chain, thus providing verified non-GMO alternatives to the consumer. Eden Foods is enthusiastic in support of The Project and has great hope that it will become a much-needed filter that knowledgeable people require.
Eden Foods, its president Michael Potter, is one of eleven governing members of the Non-GMO Project's board of directors that has been involved in initiating, funding, and writing standards for the Non-GMO Project, a non-profit organization to develop and verify consistent standards for food produced without genetic engineering or recombinant DNA technologies. The Non-GMO Project is North America's first independent non-GMO verification utilizing on-site facility audits, document and systems reviews, and DNA PCR (polymerase chain reaction) testing of all inputs at risk for GMO contamination.
The Project aims to continuously improve elimination of GMO contamination along the supply chain by encouraging suppliers of Non-GMO seed, to offering information concerning companies that have enrolled their food in the Non-GMO Product Verification Program.
As of today Eden enrolled 183 foods that have all been verified as compliant with the Non-GMO Project Standard, 116 foods in the U.S. and 67 in Canada.
Beans - Canned » Organic Beans
102970
Aduki Beans, Organic (15 oz)
103080
Baked Beans with Sorghum & Mustard, Organic (15 oz)
102979
Black Beans, Organic (29 oz)
102980
Black Beans, Organic (15 oz)
103120
Black Eyed Peas, Organic (15 oz)
103129
Black Eyed Peas, Organic (29 oz)
103050
Black Soybeans, Organic (15 oz)
103059
Black Soybeans, Organic (29 oz)
103130
Butter Beans (Baby Lima), Organic (15 oz)
103100
Cannellini (White Kidney) Beans, Organic (15 oz)
103109
Cannellini (white kidney), Organic (29 oz)
103145
Caribbean Black Beans, Organic (15 oz)
103070
Chili Beans with Jalapeno & Chili Peppers, Organic (15 oz)
102959
Garbanzo Beans (chick peas), Organic (29 oz)
102960
Garbanzo Beans (Chick Peas), Organic (15 oz)
103004
Great Northern Beans, Organic (15 oz)
103006
Great Northern Beans, Organic (29 oz)
102990
Kidney (dark red) Beans, Organic (15 oz)
102989
Kidney (dark red), Organic (29 oz)
103090
Lentils w/Onion & Bay Leaf, Organic (15 oz)
103000
Navy Beans, Organic (15 oz)
103009
Navy Beans, Organic (29 oz)
102950
Pinto Beans, Organic (15 oz)
102957
Pinto Beans, Organic (29 oz)
103110
Small Red Beans, Organic (15 oz)
103119
Small Red Beans, Organic (29 oz)
103040
Spicy Pinto Beans, Organic (15 oz)
Beans - Canned » Organic Refried Beans
103160
Refried Black Beans, Organic (16 oz)
103180
Refried Black Soy & Black Beans, Organic (15 oz)
103170
Refried Kidney Beans, Organic (15 oz)
103150
Refried Pinto Beans, Organic (16 oz)
103200
Spicy Refried Black Beans, Organic (16 oz)
103190
Spicy Refried Pinto Beans, Organic (16 oz)
Organic Rice & Beans
103220
Brown Rice & Kidney Beans, Organic (15 oz)
103225
Brown Rice & Lentils, Organic (15 oz)
103205
Brown Rice & Pinto Beans, Organic (15 oz)
103230
Cajun Rice & Small Red Beans, Organic (15 oz)
103215
Caribbean Rice & Black Beans, Organic (15 oz)
103228
Curried Rice & Lentils, Organic (15 oz)
103218
Mexican Rice & Black Beans, Organic (15 oz)
103213
Moroccan Rice & Garbanzo Beans, Organic (15 oz)
103208
Spanish Rice & Pinto Beans, Organic (15 oz)
Beans - Dry
102820
Black Turtle Beans, Organic, Dry (16 oz)
102800
Dark Red Kidney Beans, Organic, Dry (16 oz)
102750
Garbanzo Beans (chick peas), Organic, Dry (16 oz)
102710
Green Lentils, Organic, Dry (16 oz)
102845
Navy Beans, Organic, Dry (16 oz)
102905
Pinto Beans, Organic, Dry (16 oz)
Cereal » Flakes
113055
Brown Rice Flakes, Organic (16 oz)
113065
Kamut Flakes, Organic (16 oz)
113050
Oat Flakes, Organic (16 oz)
113045
Rye Flakes, Organic (16 oz)
113060
Spelt Flakes, Organic (16 oz)
Cereal » Muesli
113075
Cinnamon Muesli, Organic (17.6 oz)
113070
Muesli, Organic (17.6 oz)
Chili
103234
Black Bean & Quinoa Chili (14.5 oz)
103235
Black Bean & Quinoa Chili (29 oz)
103238
Great Northern Bean & Barley Chili (14.5 oz)
103239
Great Northern Bean & Barley Chili (29 oz)
103236
Kidney Bean & Kamut Chili (14.5 oz)
103237
Kidney Bean & Kamut Chili (29 oz)
103232
Pinto Bean & Spelt Chili (14.5 oz)
103233
Pinto Bean & Spelt Chili (29 oz)
Condiments & Sweeteners » Condiments
104270
Dulse Flakes, Organic (1.5 oz)
109940
Eden Shake - Furikake (2.1 oz)
Condiments & Sweeteners » Organic Gomasio
104230
Black & Tan Gomasio - Sesame Salt, Organic (3.5 oz)
104220
Black Gomasio (Sesame Salt), Organic (3.5 oz)
104250
Garlic Gomasio (Sesame Salt), Organic (3.5 oz)
104240
Gomasio (Sesame Salt), Organic (3.5 oz)
104260
Seaweed Gomasio (Sesame Salt), Organic (3.5 oz)
Condiments & Sweeteners » Organic Mustards
102320
Brown Mustard, Organic (9 oz)
102330
Brown Mustard, Organic (9 oz)
102350
Yellow Mustard, Organic (9 oz)
102360
Yellow Mustard, Organic (9 oz)
Condiments & Sweeteners » Organic Sweeteners
104050
Barley Malt Syrup, Organic (20 oz)
Condiments & Sweeteners » Sea Salts
105365
Sea Salt - French Celtic (14 oz)
105390
Sea Salt - Portuguese (16 oz)
Edensoy
100040
Carob Edensoy, Organic (32 fl oz)
100095
Chocolate Edensoy, Organic (32 fl oz)
100220
Original Edensoy Extra, Organic (32 fl oz)
100020
Original Edensoy, Organic (32 fl oz)
100080
Unsweetened Edensoy, Organic (32 fl oz)
100260
Vanilla Edensoy Extra, Organic (32 fl oz)
100060
Vanilla Edensoy, Organic (32 fl oz)
Fruit & Juices » Dried Fruit
450015
Dried Apples, Organic (4 oz)
450016
Dried Apricots, Organic (8 oz)
403289
Dried Cranberries, Organic (1 lb)
103262
Dried Cranberries, Organic (4 oz)
103270
Dried Montmorency Cherries (4 oz)
103285
Dried Montmorency Cherries (10 lb)
403285
Dried Montmorency Tart Cherries (1 lb)
403288
Dried Wild Blueberries, Organic (1 lb)
103260
Dried Wild Blueberries, Organic (4 oz)
Fruit & Juices » Juices
103370
Apple Juice, Organic (32 oz)
103375
Apple Juice, Organic (64 oz)
103245
Cherry Juice Concentrate, Organic (7.5 oz)
103385
Cherry Juice, Organic (32 oz)
103585
Concord Grape Juice, Organic (32 oz)
Fruit & Juices » Sauces and Butters
103320
Apple Butter, Organic (17 oz)
103330
Apple Cherry Butter, Organic (17 oz)
103350
Apple Cherry Sauce, Organic (25 oz)
103395
Apple Cinnamon Sauce, Organic (25 oz)
103360
Apple Sauce, Organic (25 oz)
103340
Apple Strawberry Sauce, Organic (25 oz)
103315
Cherry Butter, Organic (8 oz)
103325
Grape Butter, Organic (8 oz)
Macrobiotic Specialty » Chips
110840
Brown Rice Chips (1.7 oz)
Macrobiotic Specialty » Macrobiotic Specialty
111200
Bamboo Sushi Mat - sudare (1 mat)
109590
Bonito Flakes (1.05 oz)
110100
Daikon Radish - shredded and dried (3.5 oz)
111220
Dentie Tooth Powder (2 oz)
109995
Dried Tofu (2 oz)
109630
Kuzu Root Starch, Organic (3.5 oz)
110080
Lotus Root Slices - dried (4 oz)
109780
Mirin, rice cooking wine (10.5 oz)
110220
Pickled Daikon Radish (3.5 oz)
110240
Pickled Ginger with Shiso Leaves (2.1 oz)
109880
Ponzu Sauce - five flavor seasoning (6.75 oz)
110200
Shiso Leaf Powder (1.76 oz)
109960
Tekka - miso condiment (2.8 oz)
110180
Umeboshi Paste (7 oz)
110140
Umeboshi Plums (7 oz)
110000
Wasabi Powder - Japanese horseradish (.88 oz)
Macrobiotic Specialty » Matcha
110490
Matcha Bowl (1 bowl / 5.75" x 3.75")
110500
Matcha Spoon (1 spoon / 7.5" x 0.5")
110480
Matcha Whisk (1 whisk / 4.5" x 2.5")
110510
Organic Matcha - Green Tea Powder (1.06 oz)
110520
Organic Matcha, Green Tea Powder Kit (1.06 oz)
Macrobiotic Specialty » Miso
107780
Genmai Miso, Organic (12.1 oz)
107810
Hacho Miso, Organic (12.1 oz)
107815
Instant Red Miso Soup (4/.28 oz)
107835
Instant White Miso Soup (4/.28 oz)
107760
Mugi Miso, Organic (12.1 oz)
107840
Shiro Miso, Organic (12.1 oz)
Macrobiotic Specialty » Mochi
107865
Brown Rice & Black Soybean Mochi, Organic (10.5 oz)
107855
Sprouted Brown Rice Mochi, Organic (10.5 oz)
107845
Sweet Brown Rice Mochi, Organic (10.5 oz)
Macrobiotic Specialty » Mushrooms
110040
Maitake Mushrooms - dried (.88 oz)
110030
Sliced Shiitake Mushrooms - dried (.88 oz)
110020
Whole Shiitake Mushrooms - dried (.88 oz)
Macrobiotic Specialty » Pasta
108440
Bifun (Rice) Pasta (3.5 oz)
108260
Brown Rice Udon (8.8 oz)
101685
Kamut Soba, Organic (8 oz)
101695
Kamut Udon, Organic (8 oz)
108485
Kuzu Pasta (3.5 oz)
108160
Lotus Root Soba (8.8 oz)
108120
Mugwort Soba (8.8 oz)
108460
Mung Bean Pasta (Harusame) (2.4 oz)
108300
Soba, 100% Buckwheat (8 oz)
108100
Soba, 40% Buckwheat (8.8 oz)
101700
Soba, Organic (8 oz)
101690
Spelt Soba, Organic (8 oz)
101680
Spelt Udon, Organic (8 oz)
108240
Udon (8.8 oz)
101705
Udon, Organic, 100% Whole Grain (8 oz)
101715
Wheat & Rice Udon, Organic (8 oz)
108140
Wild Yam (Jinenjo) Soba (8.8 oz)
Macrobiotic Specialty » Sea Vegetables
108960
Agar Agar Bars, Sea Vegetable (.5 oz)
108940
Agar Agar Flakes, Sea Vegetable (1 oz)
108840
Arame, Sea Vegetable (2.1 oz)
108860
Hiziki, Sea Vegetable (2.1 oz)
108920
Instant Wakame Flakes, Sea Vegetable (1.06 oz)
108880
Kombu, Sea Vegetable (2.1 oz)
109030
Mekabu Wakame, Sea Vegetable (.88 oz)
109020
Nori Krinkles, Sea Vegetable (.529 oz)
109000
Nori, Sea Vegetable, 10 untoasted sheets (.8 oz)
109040
Spicy Nori Strips, Sea Vegetable (.47 oz)
108760
Sushi Nori, Sea Vegetable, 50 toasted sheets (4.4 oz)
108980
Sushi Nori, Sea Vegetable, 7 toasted sheets (.6 oz)
108900
Wakame, Sea Vegetable (2.1 oz)
Macrobiotic Specialty » Soy Sauces
107190
Shoyu Soy Sauce, Imported (10 oz)
107210
Shoyu Soy Sauce, Imported (20 oz)
107310
Shoyu Soy Sauce, Organic, Imported (10 oz)
107410
Tamari Soy Sauce, Organic, Imported (10 oz)
107420
Tamari Soy Sauce, Organic, Imported (20 oz)
106970
Tamari Soy Sauce, Organic, U.S.A. Brewed (10 oz)
106980
Tamari Soy Sauce, Organic, U.S.A. Brewed (20 oz)
Oils & Vinegars » Oils
109520
Hot Pepper Sesame Oil (5 oz)
104340
Olive Oil, Extra Virgin, Spanish (16 oz)
104360
Olive Oil, Extra Virgin, Spanish (32 oz)
104500
Safflower Oil - High Oleic, Organic (16 oz)
104640
Sesame Oil - Extra Virgin, Organic (16 oz)
104660
Sesame Oil - Extra Virgin, Organic (32 oz)
109420
Toasted Sesame Oil (5 oz)
109430
Toasted Sesame Oil (10 oz)
Oils & Vinegars » Vinegars
103480
Apple Cider Vinegar, Organic (16 oz)
103500
Apple Cider Vinegar, Organic (32 oz)
109160
Brown Rice Vinegar, Organic (5 oz)
109170
Brown Rice Vinegar, Organic (10 oz)
103560
Red Wine Vinegar (16 oz)
103580
Red Wine Vinegar (32 oz)
109320
Ume Plum Vinegar (5 oz)
109330
Ume Plum Vinegar (10 oz)
Pasta » Organic 100% Whole Grain
101130
Kamut Spaghetti, 100% Whole Grain, Organic (14 oz)
101675
Kamut & Buckwheat Rigatoni, Organic, 100% Whole Grain (12 oz)
101150
Kamut & Quinoa Twisted Pair, Organic, 100% Whole Grain (12 oz)
101140
Kamut Ditalini, Organic, 100% Whole Grain (12 oz)
101670
Kamut Elbows, Organic, 100% Whole Grain (14 oz)
101100
Kamut Spirals, Organic, 100% Whole Grain (12 oz)
101272
Kamut Vegetable Spirals, Organic, 100% Whole Grain (12 oz)
101355
Rye Spirals, Organic, 100% Whole Grain (12 oz)
101210
Spaghetti, Organic, 100% Whole Grain (14 oz)
101655
Spelt & Buckwheat Gemelli, Organic, 100% Whole Grain (12 oz)
101630
Spelt Ribbons, Organic, 100% Whole Grain (8 oz)
101660
Spelt Spaghetti, Organic, 100% Whole Grain (14 oz)
101635
Spelt Ziti Rigati, Organic, 100% Whole Grain (12 oz)
Pasta » Organic 60% Whole Grain
101265
Flax Rice Spirals, Organic, 60% Whole Grain (12 oz)
101595
Parsley Garlic Spaghetti, Organic, 60% Whole Grain (14 oz)
101645
Small Vegetable Shells, Organic, 60% Whole Grain (12 oz)
101375
Spinach Ribbons, Organic, 60% Whole Grain (8 oz)
101350
Spinach Spirals, Organic, 60% Whole Grain (12 oz)
101395
Vegetable Alphabets,Organic 60% Whole Grain (16 oz)
Pasta » Organic Golden Amber Durum
101650
Artichoke Ribbons, Organic (8 oz)
101485
Parsley Garlic Ribbons, Organic (8 oz)
101425
Vegetable Ribbons, Organic (8 oz)
101435
Vegetable Shells, Organic (12 oz)
101415
Vegetable Spirals, Organic (12 oz)
Sea Vegetables
104275
Dulse Whole Leaf, Organic, (1.4 oz)
Snack Foods » 1 oz Pocket Snacks
203263
Dried Cranberries Pocket Snacks, Organic (Box of 12 Each - 1 oz)
103263
Dried Cranberries, Organic Pocket Snacks (Each 1 oz)
203271
Dried Montmorency Cherries Pocket Snacks (Box of 12 Each - 1 oz)
103271
Dried Montmorency Cherries Pocket Snacks (Each 1 oz)
203261
Dried Wild Blueberries Pocket Snacks, Organic (Box of 12 Each - 1 oz)
103261
Dried Wild Blueberries, Organic Pocket Snacks (Each 1 oz)
213031
Pistachios Pocket Snacks, Organic (Box of 12 Each - 1 oz)
113031
Pistachios Pocket Snacks, Organic (Each 1 oz)
213016
Pumpkin Seeds Pocket Snacks, Organic (Box of 12 Each - 1 oz)
113016
Pumpkin Seeds Pocket Snacks, Organic (Each 1 oz)
112016
Quiet Moon Pocket Snacks (Each 1 oz)
212016
Quiet Moon Pocket Snacks (Box of 12 Each - 1 oz)
112366
Spicy Pumpkin Seeds Pocket Snacks, Organic (Each 1 oz)
212366
Spicy Pumpkin Seeds Pocket Snacks, Organic (Box of 12 Each - 1 oz)
212426
Tamari Almonds Pocket Snacks, Organic (Box of 12 Each - 1 oz)
112426
Tamari Almonds Pocket Snacks, Organic (Each 1 oz)
212031
Wild Berry Mix Pocket Snacks, Organic (Box of 12 Each - 1 oz)
112031
Wild Berry Mix, Organic Pocket Snacks (Each 1 oz)
Snack Foods » 4 oz Snacks
113030
Pistachios, Organic (4 oz)
113015
Pumpkin Seeds, Organic (4 oz)
112015
Quiet Moon (4 oz)
103302
Snack Basket ()
112365
Spicy Pumpkin Seeds, Organic (4 oz)
112425
Tamari Roasted Almonds, Organic (4 oz)
112030
Wild Berry Mix, Organic (4 oz)
Snack Foods » 1 lb Snacks
413025
Almonds, Organic (1 lb)
413032
Pistachios, Organic (1 lb)
413020
Pumpkin Seeds, Organic (1 lb)
412370
Spicy Pumpkin Seeds, Organic (1 lb)
412405
Tamari Roasted Almonds, Organic (1 lb)
400481
Thompson Raisins, Organic (1 lb)
412029
Wild Berry Mix, Organic (1 lb)
Snack Foods » Popcorn
415400
Popcorn, Organic (5 lb)
105400
Popcorn, Organic (20 oz)
Spices & Herbs
400383
Basil, Organic (0.564 oz)
400375
Bay Leaf Powder, Organic (1.376 oz)
400377
Black Pepper - Ground, Organic (2.116 oz)
400348
Brown Mustard Seed, Organic (2.575 oz)
400393
Cardamom - Ground, Organic (1.834 oz)
400365
Cayenne Pepper - 25,000 HU, Organic (1.693 oz)
400364
Cayenne Pepper - 60,000 HU, Organic (1.764 oz)
400397
Chili Pepper - Crushed Flakes, Hot, Organic (1.129 oz)
400394
Chili Pepper - Ground, (1,800 HU), Organic (1.587 oz)
400376
Cinnamon, Organic (1.552 oz)
400396
Cloves - Ground, Organic (1.340 oz)
400391
Coriander - Ground, Organic (1.164 oz)
400374
Cumin Powder, Organic (1.622 oz)
400389
Dried Minced Garlic, Organic (2.222 oz)
400371
Dried Minced Onion, Organic (1.728 oz)
400395
Fenugreek Powder, Organic (2.187 oz)
400363
Garlic Powder, Organic (2.328 oz)
400384
Oregano, Organic (0.494 oz)
400373
Paprika Powder, Organic (1.481 oz)
400372
Parsley Flakes, Organic (0.494 oz)
400388
Thyme - Ground, Organic (0.670 oz)
400392
Turmeric - Ground, Organic (1.905 oz)
400357
Yellow Mustard Powder, Organic (1.693 oz)
400351
Yellow Mustard Seed, Organic (2.716 oz)
Supplements & Concentrates
111353
Bifa-15 - 3 tube pack (3 - 0.039 oz tubes)
111352
Bifa-15 - 30 tube box (30 - 0.039 oz tubes)
110300
Ume Plum Balls - 300 count (2.28 oz)
110280
Ume Plum Concentrate - Bainiku Ekisu (1.4 oz)
110260
Yansen - dandelion root concentrate (1.4 oz)
Teas
110585
Sencha Rose Green Tea, Organic (16 bags)
110590
Chamomile Herb Tea, Organic (16 bags)
103307
Eden Organic Tea Basket ()
110530
Genmaicha Tea, Organic (16 bags)
110575
Hojicha Chai Roasted Green Tea, Organic (16 bags)
110540
Hojicha Tea, Roasted Green Tea, Organic (16 bags)
410750
Kukicha (twig) Tea, Organic (8 oz)
110665
Kukicha Twig Tea, Organic - Loose (1.75 oz)
110550
Kukicha, Twig Tea, Organic (16 bags)
110745
Lotus Root Tea (2 oz)
110730
Mu 16 Herb Tea (6 bags 1.3 oz)
110570
Sencha Ginger Green Tea, Organic (16 bags)
410790
Sencha Green Tea, Organic (8 oz)
110560
Sencha Green Tea, Organic (16 bags)
110625
Sencha Green Tea, Organic - Loose leaf (2.25 oz)
110580
Sencha Mint Green Tea, Organic (16 bags)
Tomatoes & Sauerkraut » Organic Sauerkraut
103900
Sauerkraut, Organic (32 oz)
Tomatoes & Sauerkraut » Organic Tomato
104085
Crushed Tomatoes with Roasted Onion & Garlic, Organic (28 oz)
104885
Crushed Tomatoes w/Roasted Onion & Garlic, Organic (25 oz)
104865
Crushed Tomatoes w/Sweet Basil, Organic (14 oz)
104875
Crushed Tomatoes w/Sweet Basil, Organic (25 oz)
104065
Crushed Tomatoes with Basil, Organic (15 oz)
104075
Crushed Tomatoes with Basil, Organic (28 oz)
104070
Crushed Tomatoes, Organic (15 oz)
104080
Crushed Tomatoes, Organic (28 oz)
104870
Crushed Tomatoes, Organic (14 oz)
104880
Crushed Tomatoes, Organic (25 oz)
103990
Diced Tomatoes with Basil, Organic (14.5 oz)
103980
Diced Tomatoes with Green Chilies, Organic (14.5 oz)
103995
Diced Tomatoes with Roasted Onion & Garlic, Organic (14.5 oz)
103970
Diced Tomatoes, Organic (14.5 oz)
103975
Diced Tomatoes, Organic (28 oz)
103920
Pizza Pasta Sauce, Organic (15 oz)
103925
Pizza Pasta Sauce, Organic (14 oz)
104030
Spaghetti Sauce, No Salt Added, Organic (25 oz)
104020
Spaghetti Sauce, Organic (25 oz)
103950
Whole Tomatoes with Basil, Organic (28 oz)
103960
Whole Tomatoes, Organic (28 oz)
Whole Grains » Best Whole
113040
Buckwheat, Organic (16 oz)
411755
Hard Red Spring Wheat, Organic (5 lb)
421755
Hard Red Spring Wheat, Organic (2 lb)
113035
Millet, Organic, (16 oz)
426061
Pearled Barley, Organic (2 lb)
406061
Pearled Barley, Organic (5 lb)
406900
Quinoa, Organic (5 lb)
106900
Quinoa, Organic (16 oz)
406905
Red Quinoa, Organic (5 lb)
106905
Red Quinoa, Organic (16 oz)
425501
Short Grain Brown Rice, Organic (2 lb)
405501
Short Grain Brown Rice, Organic (5 lb)
411754
Soft White Winter (Pastry) Wheat, Organic (5 lb)
421754
Soft White Winter Wheat, Organic (2 lb)
405503
Wild Rice (1 lb)
106920
Wild Rice, 100% Whole Grain (7 oz)
Whole Grains » Flour
411440
Hard Red Spring Wheat Flour, Organic (5 lb)
421550
Golden Amber Durum Wheat Semolina Flour, Organic (2 lb)
411550
Golden Amber Durum Wheat Semolina Flour, Organic (5 lb)
421441
Hard Red Spring Wheat Flour, Organic (2 lb)
421475
Kamut Wheat Flour, Organic (2 lb)
411475
Kamut Wheat Flour, Organic (5 lb)
421748
Quinoa Flour, Organic (2 lb)
411748
Quinoa Flour, Organic (5 lb)
421739
Short Grain Brown Rice Flour, Organic (2 lb)
411739
Short Grain Brown Rice Flour, Organic (5 lb)
411575
Spelt Wheat Flour, Organic (5 lb)
421575
Spelt Wheat Flour, Organic (2 lb)
421500
Whole Wheat Pastry Flour, Organic (2 lb)
411500
Whole Wheat Pastry Flour, Organic (5 lb)
Gifts & Merchandise » Gifts
103301
Dashi - Miso Basket ()
103294
Eden Apple Butter Tote ()
103309
Fruit Basket ()
103293
Gluten Free Grain Basket ()
103292
Gluten Free Sampler Basket ()
103303
Michigan Basket ()
103295
Pasta Basket ()
103305
Popcorn Bowl ()
103291
Some Like It Hot ()
103290
Sushi Basket ()
Gifts & Merchandise » Merchandise
710051
Eden Full Zip Fleece Hoodie ()
700650
Organic Cotton Canvas Bag (18" x 13" x 5")
700640
Organic Cotton Tote Bag (10" x 7" x 3")
710020
The GMO Trilogy ()
Bulk » Fruit and Nut Mixes
113020
Pumpkin Seeds, Organic (10 lb)
112360
Spicy Pumpkin Seeds, Organic (10 lb)
112400
Tamari Roasted Almonds, Organic - Bulk (25 lb)
112420
Tamari Roasted Almonds, Organic - Bulk (10 lb)
Bulk » Imported Specialty
109620
Kuzu Root Starch, Organic (11 lb)
109720
Mirin, rice cooking wine (4.75 gal)
110250
Pickled Ginger with Shiso Leaves (22 lb)
110160
Umeboshi Paste (22 lb)
110120
Umeboshi Plums (22 lb)
110010
Wasabi Powder - Japanese horseradish (2.2 lb)
Bulk » Miso
107520
Genmai Miso, Organic (22 lb)
107540
Hacho Miso, Organic (22 lb)
107500
Mugi Miso, Organic (22 lb)
107580
Natto Miso - vegetable chutney (22 lb)
Bulk » Oils and Vinegars
103400
Apple Cider Vinegar, Organic (55 gal)
109140
Brown Rice Vinegar, Organic (55.4 gal)
109150
Brown Rice Vinegar, Organic (5 gal)
109500
Hot Pepper Sesame Oil (52.3 gal)
104300
Olive Oil, Extra Virgin, Spanish (58 gal)
104380
Olive Oil, Extra Virgin, Spanish (1 gal)
104400
Olive Oil, Extra Virgin, Spanish (5 gal)
104460
Safflower Oil - High Oleic, Organic (55 gal)
104560
Safflower Oil - High Oleic, Organic (5 gal)
104600
Sesame Oil - Extra Virgin, Organic (55 gal)
109400
Toasted Sesame Oil (52.3 gal)
109480
Toasted Sesame Oil (5 gal)
109280
Ume Plum Vinegar (55.4 gal)
109310
Ume Plum Vinegar (1 gal)
Bulk » Organic Beans
102956
Pinto Beans, Organic (108 oz)
102771
Aduki Beans, Organic, Dry (25 lb)
102978
Black Beans, Organic (108 oz)
102814
Black Soybeans, Organic, Dry (25 lb)
102816
Black Turtle Beans, Organic, Dry (25 lb)
103108
Cannellini (White Kidney) Beans, Organic (108 oz)
102796
Dark Red Kidney Beans, Organic, Dry (25 lb)
102958
Garbanzo Beans (chick peas), Organic (108 oz)
102700
Green Lentils, Organic, Dry (25 lb)
102725
Green Split Peas, Organic, Dry (25 lb)
102988
Kidney Beans (dark red), Organic (108 oz)
103008
Navy Beans, Organic (108 oz)
102838
Navy Beans, Organic, Dry (25 lb)
102900
Pinto Beans, Organic, Dry (25 lb)
102850
Small Red Beans, Organic, Dry (25 lb)
Bulk » Organic Flour
111440
Hard Red Spring Wheat Flour, Organic (50 lb)
111400
Hard Red Winter Wheat Flour, Organic (50 lb)
111500
Pastry Flour - Soft White Wheat, Organic (50 lb)
Bulk » Organic Grain
105840
Hard Red Spring Wheat, Organic (50 lb)
105800
Hard Red Winter Wheat, Organic (50 lb)
106060
Pearled Barley, Organic (50 lb)
105815
Popcorn, Organic (50 lb)
106860
Quinoa, Organic (25 lb)
105880
Soft White Winter Wheat, Organic (50 lb)
Bulk » Pasta
101200
Spaghetti, Organic, 100% Whole Grain (10 lb)
101480
Parsley Garlic Ribbons, Organic (10 lb)
101720
Soba, Organic (10 lb)
101725
Udon, Organic, 100% Whole Grain (10 lb)
101400
Vegetable Spirals, Organic (10 lb)
101735
Wheat & Rice Udon, Organic (10 lb)
Bulk » Sea Salts
105380
Sea Salt - French Celtic (55 lb)
105385
Sea Salt - Portuguese (55 lb)
Bulk » Sea Vegetables
108600
Arame, Sea Vegetable (2.2 lb)
108620
Hiziki, Sea Vegetable (2.2 lb)
108680
Kombu, Sea Vegetable (2.2 lb)
108700
Wakame, Sea Vegetable (2.2 lb)
Bulk » Soy Sauces
107295
Shoyu Soy Sauce, Imported (55 gal)
107400
Tamari Soy Sauce, Organic, Imported (55 gal)
107020
Tamari Soy Sauce, Organic, U.S.A. Brewed (55 gal)
Bulk » Teas
110640
Kukicha Twig Tea, Organic - Loose (11 lb)
110600
Sencha Green Tea, Organic - Loose leaf (13.2 lb)