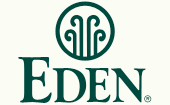 ©2016 Eden Foods, Inc.
www.edenfoods.com
The Non-GMO Project
December 15, 2009
Regrettably, there is a long-standing practice of "Don't ask. Don't tell." in the natural products industry regarding genetically engineered derived food and ingredients. Most commonly, inquiries are deflected by simply saying that GMOs are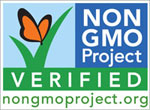 "not allowed in the USDA organic program" even though no one is testing or doing anything to avoid them.
Eden, however, is and has been doing everything necessary to avoid them since 1993.
Recently, the Non-GMO Project (The Project) was created by industry members from all of its sectors in the USA and Canada. Eden Foods being one. The Project provides consumers and makers a 3rd party non-GMO verification program through all levels of the supply chain, thus providing verified non-GMO alternatives to the consumer. Eden Foods is enthusiastic in support of The Project and has great hope that it will become a much-needed filter that knowledgeable people require.
Eden Foods, its president Michael Potter, is one of eleven governing members of the Non-GMO Project's board of directors that has been involved in initiating, funding, and writing standards for the Non-GMO Project, a non-profit organization to develop and verify consistent standards for food produced without genetic engineering or recombinant DNA technologies. The Non-GMO Project is North America's first independent non-GMO verification utilizing on-site facility audits, document and systems reviews, and DNA PCR (polymerase chain reaction) testing of all inputs at risk for GMO contamination.
The Project aims to continuously improve elimination of GMO contamination along the supply chain by encouraging suppliers of Non-GMO seed, to offering information concerning companies that have enrolled their food in the Non-GMO Product Verification Program.
As of today Eden enrolled 183 foods that have all been verified as compliant with the Non-GMO Project Standard, 116 foods in the U.S. and 67 in Canada.
View Non-GMO Project Certificate of Compliance (PDF - 109KB)
To learn more about the Non-GMO Project visit:
www.nongmoproject.org or twitter.com/nongmoproject.
List of 116 verified Eden foods - U.S. Labeled
U.S. Label |
Canadian Label
Beans - Canned » Organic Beans
102970
Aduki Beans, Organic, BPA free lined can (15 oz)
102979
Black Beans, Organic, BPA free lined can (29 oz)
102980
Black Beans, Organic, BPA free lined can (15 oz)
103120
Black Eyed Peas, Organic, BPA free lined can (15 oz)
103129
Black Eyed Peas, Organic, BPA free lined can (29 oz)
103050
Black Soybeans, Organic, BPA free lined can (15 oz)
103059
Black Soybeans, Organic, BPA free lined can (29 oz)
103130
Butter Beans (Baby Lima), Organic, BPA free lined can (15 oz)
103100
Cannellini (White Kidney) Beans, Organic, BPA free lined can (15 oz)
103109
Cannellini (white kidney), Organic, BPA free lined can (29 oz)
102959
Garbanzo Beans (chick peas), Organic, BPA free cans (29 oz)
102960
Garbanzo Beans (Chick Peas), Organic, BPA free lined can (15 oz)
103004
Great Northern Beans, Organic, BPA free lined can (15 oz)
103006
Great Northern Beans, Organic, BPA free lined can (29 oz)
102990
Kidney (dark red) Beans, Organic, BPA free lined can (15 oz)
102989
Kidney (dark red), Organic, BPA free lined can (29 oz)
103000
Navy Beans, Organic, BPA free lined can (15 oz)
103009
Navy Beans, Organic, BPA free lined can (29 oz)
102950
Pinto Beans, Organic, BPA free lined can (15 oz)
102957
Pinto Beans, Organic, BPA free lined can (29 oz)
103110
Small Red Beans, Organic, BPA free lined can (15 oz)
103119
Small Red Beans, Organic, BPA free lined can (29 oz)
Beans - Canned » Organic Rice & Beans
103220
Brown Rice & Kidney Beans, Organic, BPA free lined cans (15 oz)
103225
Brown Rice & Lentils, Organic, BPA free lined cans (15 oz)
103205
Brown Rice & Pinto Beans, Organic, BPA free lined cans (15 oz)
103230
Cajun Rice & Small Red Beans, Organic, BPA free lined cans (15 oz)
103215
Caribbean Rice & Black Beans, Organic, BPA free lined cans (15 oz)
103228
Curried Rice & Lentils, Organic, BPA free lined cans (15 oz)
103218
Mexican Rice & Black Beans, Organic, BPA free lined cans (15 oz)
103213
Moroccan Rice & Garbanzo Beans, Organic, BPA free lined cans (15 oz)
103208
Spanish Rice & Pinto Beans, Organic, BPA free lined cans (15 oz)
Beans - Dry
102820
Organic Dry Black Turtle Beans - 1 pound box (16 oz)
102800
Organic Dry Dark Red Kidney Beans - 1 pound box (16 oz)
102750
Organic Dry Garbanzo Beans (chick peas) - 1 pound box (16 oz)
102710
Organic Dry Green Lentils - 1 pound box (16 oz)
102845
Organic Dry Navy Beans - 1 pound box (16 oz)
102905
Organic Dry Pinto Beans - 1 pound box (16 oz)
Cereal » Flakes
113055
Brown Rice Flakes, 100% Whole Grain, Organic (16 oz)
113065
Kamut Flakes, 100% Whole Grain, Organic (16 oz)
113050
Oat Flakes, 100% Whole Grain, Organic (16 oz)
113045
Rye Flakes, 100% Whole Grain, Organic (16 oz)
113060
Spelt Flakes, 100% Whole Grain, Organic (16 oz)
Cereal » Muesli
113075
Cinnamon Muesli, Organic (17.6 oz)
113070
Muesli, Organic (17.6 oz)
Chili
103234
Black Bean & Quinoa Chili, BPA free can lining (14.5 oz)
103235
Black Bean & Quinoa Chili, BPA free can lining (29 oz)
103238
Great Northern Bean & Barley Chili, BPA free cans (14.5 oz)
103239
Great Northern Bean & Barley Chili, BPA free cans (29 oz)
103237
Kidney Bean & Kamut Chili, BPA free cans (29 oz)
103236
Kidney Bean & Kamut Chili, BPA free cans (14.5 oz)
103232
Pinto Bean & Spelt Chili, BPA free can lining (14.5 oz)
103233
Pinto Bean & Spelt Chili, BPA free can lining (29 oz)
Edensoy
100040
Carob E

densoy

, Organic Soymilk (32 fl oz)
100095
Chocolate E

densoy

, Organic Soymilk (32 fl oz)
100020
Original E

densoy

, Organic Soymilk (32 fl oz)
100080
Unsweetened E

densoy

, Organic Soymilk (32 fl oz)
100060
Vanilla E

densoy

, Organic Soymilk (32 fl oz)
Fruit & Juices » Dried Fruit
103262
Dried Cranberries, Organic (4 oz)
103263
Dried Cranberries, Organic Pocket Snacks (Each 1 oz)
103270
Dried Montmorency Cherries (4 oz)
103271
Dried Montmorency Cherries Pocket Snacks (Each 1 oz)
103260
Dried Wild Blueberries, Organic (4 oz)
103261
Dried Wild Blueberries, Organic Pocket Snacks (Each 1 oz)
Japanese Imported Specialties » Japanese Imported Specialties
109780
Mirin, rice cooking wine, Glass Bottle (10.5 oz)
Japanese Imported Specialties » Soy Sauces
107310
Shoyu Soy Sauce, Non-GMO Organic, Imported, Amber Glass (10 oz)
107420
Tamari Soy Sauce, Non-GMO Organic, Imported (20 oz)
107410
Tamari Soy Sauce, Non-GMO Organic, Imported, Amber Glass (10 oz)
106980
Tamari Soy Sauce, Non-GMO Organic, U.S.A. Brewed (20 oz)
106970
Tamari Soy Sauce, Non-GMO Organic, U.S.A. Brewed, Amber Glass (10 oz)
Pasta » Organic 100% Whole Grain
101675
Kamut® & Buckwheat Rigatoni, Organic, 100% Whole Grain (12 oz)
101150
Kamut® & Quinoa Twisted Pair®, Organic, 100% Whole Grain (12 oz)
101140
Kamut® Ditalini, Organic, 100% Whole Grain (12 oz)
101670
Kamut® Elbows, Organic, 100% Whole Grain (14 oz)
101130
Kamut® Spaghetti, 100% Whole Grain, Organic (14 oz)
101100
Kamut® Spirals, 100% Whole Grain, Organic (12 oz)
101272
Kamut® Vegetable Spirals, 100% Whole Grain, Organic (12 oz)
101355
Rye Spirals, Organic, 100% Whole Grain (12 oz)
101210
Spaghetti, Organic, 100% Whole Grain (14 oz)
101655
Spelt & Buckwheat Gemelli, Organic, 100% Whole Grain (12 oz)
101630
Spelt Ribbons, 100% Whole Grain, Organic (8 oz)
101660
Spelt Spaghetti, Organic, 100% Whole Grain (14 oz)
101635
Spelt Ziti Rigati, 100% Whole Grain, Organic (12 oz)
Pasta » Organic 60% Whole Grain
101265
Flax Rice Spirals, 60% Whole Grain, Organic (12 oz)
101595
Parsley Garlic Spaghetti, 60% Whole Grain, Organic (14 oz)
101645
Small Vegetable Shells, 60% Whole Grain, Organic (12 oz)
101375
Spinach Ribbons, 60% Whole Grain, Organic (8 oz)
101350
Spinach Spirals, 60% Whole Grain, Organic (12 oz)
101395
Vegetable Alphabets, Organic, 60% Whole Grain (16 oz)
Pasta » Organic Golden Amber Durum
101650
Artichoke Ribbons, Organic (8 oz)
101485
Parsley Garlic Ribbons, Organic (8 oz)
101425
Vegetable Ribbons, Organic (8 oz)
101435
Vegetable Shells, Organic (12 oz)
101415
Vegetable Spirals, Organic (12 oz)
Snack Foods » 1 oz Pocket Snacks
203263
Dried Cranberries, Organic
Pocket Snacks (Box of 12 Each - 1 oz)
203271
Dried Montmorency Cherries
Pocket Snacks (Box of 12 Each - 1 oz)
203261
Dried Wild Blueberries, Organic
Pocket Snacks (Box of 12 Each - 1 oz)
Snack Foods » Popcorn
105400
Popcorn, 100% Whole Grain, Organic (20 oz)
415400
Popcorn, 100% Whole Grain, Organic (5 lb)
Whole Grains » Best Whole
113040
Buckwheat, 100% Whole Grain, Organic (16 oz)
113035
Millet, 100% Whole Grain, Organic (16 oz)
106900
Quinoa, 100% Whole Grain, Organic (16 oz)
406900
Quinoa, 100% Whole Grain, Organic - 5 lb (5 lb)
106905
Red Quinoa, 100% Whole Grain, Organic (16 oz)
406905
Red Quinoa, 100% Whole Grain, Organic - 5 lb (5 lb)
106920
Wild Rice, 100% Whole Grain (7 oz)
Bulk » Imported Specialty
109720
Mirin, rice cooking wine (4.75 gal)
Bulk » Organic Beans
102978
Black Beans, Organic - #10 BPA free lined can (108 oz)
103108
Cannellini (White Kidney) Beans, Organic - #10 BPA free lined ca (108 oz)
102958
Garbanzo Beans (chick peas), Organic - #10 BPA free lined can (108 oz)
102988
Kidney Beans (dark red), Organic - #10 BPA free lined can (108 oz)
103008
Navy Beans, Organic, BPA free lined can (108 oz)
102956
Pinto Beans, Organic - #10 BPA free lined can (108 oz)
Bulk » Organic Grain
105815
Popcorn - 100% Whole Grain, Organic - Bulk (50 lb)
106860
Quinoa, 100% Whole Grain, Organic (25 lb)
Bulk » Pasta
101480
Parsley Garlic Ribbons, Organic (10 lb)
101200
Spaghetti, Organic, 100% Whole Grain (10 lb)
101400
Vegetable Spirals, Organic (10 lb)
Bulk » Soy Sauces
107295
Shoyu Soy Sauce, Non-GMO Organic, Imported (55 gal)
107020
Tamari Soy Sauce , Non-GMO Organic, U.S.A. Brewed (55 gal)
107400
Tamari Soy Sauce, Non-GMO Organic, Imported (55 gal)