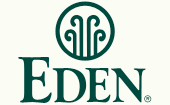 ©2016 Eden Foods, Inc.
www.edenfoods.com
100,000 Acres
Each year we visit the families who grow Eden organic food. Sitting in their kitchens, looking in on outbuildings, exchanging updates, sharing ideas, and walking their fields is the only way we know to maintain mutual trust and understand what actually motivates them.
We continue to build relations with organic growers and traditional food makers, nurturing more than 400 family farms with over 100,000 acres of vibrant organic farmland.
Local First
Eden buys all food from, and pays farms directly, in a sustainable way. Most is grown a few miles to a few hundred miles from home base.
Most cooking and packaging centers around home. Seventy-seven percent of Eden items are prepared in Clinton: fresh milled whole grain flours, gomasio sesame salts, unrefined vegetable oils, vinegars, soy sauces, roasted almonds and seeds, packaged snacks, whole grains, sea salt, popcorn and other grain. Edensoy is made twelve miles east at an affiliate company we founded to bring its manufacture from Japan to Michigan. Eden Organic Pasta Company is in Detroit. Meridian Foods cannery for organic beans, refried beans, rice and beans, and chilies is in east central Indiana.
A Cleansing Process
Champion of organic family farms – Society's brightest hope for positive change!
'Local first' purchasing
GMO free assurance since 1993
All beans – U.S.A. family organic
E

den

organic beans in custom cans with bisphenol-A (BPA) free linings
E

den

organic pasta boxed in 100% recycled paperboard
E

densoy

in non-refrigerated, recyclable Tetra Pak aseptic cartons at all facilities
Committed to LEED (Leadership in Energy and Environmental Design) common sense building methods
Trucks ecologically designed, configured, and operated
All used pallet wrap is recycled, this reduced our total landfill output by 50%
Post consumer recycled materials and biodegradable packaging materials used in shipping
U.S. Department of Energy Clean Cities Coalition member
Company wide commitment to reduce, reuse, recycle, and rethink practices
Ecological Pest Control
Eden hired L. Ernest Otter's family business in 1981 to help with design and implementation of the first organic Structural Pest Management for post-harvest handling. We established systems for organic pest management that are safer and more effective than toxic chemical-based pest control. Mr. Otter says, "Eden's demand for the organic method in food handling is unmatched. When faced with a potential problem, their reaction is not (as many do) to simply move organic product aside and spray with unapproved pesticides. Their commitment is to truly understand the conditions and ecology of each situation and solve it accordingly."
Full Circle Recycling
Eden recycles glass, plastics, metals, aseptic containers, paper, catalogs, magazines, cardboard, printer cartridges, old computers, electronics, and used wood pallets. Eden has a company wide policy of purchasing recycled materials whenever possible. All offices use recycled paper. The carpet in Eden's trade show booth is made of recycled PET plastic bottles. Product labels, brochures, fliers, catalogs, and other sales materials are printed on recycled paper using biodegradable soy based inks.
Organic "Home"

"We can calculate in approximately how many decades [agricultural] products will have degenerated to such an extent that they can no longer serve as human nourishment. It will certainly be within this [20th] century. We can see how necessary it is to derive forces from the spirit, forces that are as yet quite unknown. This is necessary not only for the sake of somehow improving agriculture, but so that human life on Earth can continue at all, since as physical beings we depend on what the Earth provides."
— Rudolf Steiner, 1924

Eden uses no pesticides, fertilizers, or weed killers anywhere. Cleaning products used are 100 percent biodegradable and contain no phosphates or petrochemical ingredients.
Eden's headquarters rest on 26-plus contiguous acres including native hardwoods, wetlands, and fields. Compost generated from Eden's kitchens is used to enrich the on site organic vegetable garden and flower beds. In 1999 Eden began restoring native greenery and wildflowers to the grounds. It is a haven for bees, migrating birds, fish, butterflies, turtles, frogs, woodchucks, etc.
Ecological Aseptic Cartons
The Tetra Pak® Co. invented aseptic packaging for food using minimal materials and energy. Seventy-three percent of Edensoy's package is from EU certified sustainable forests that ensure biological biodiversity and protect endangered species. They are recyclable and require no refrigeration in transport or storage.
Why don't we make a refrigerated Edensoy? EPA reports greenhouse gas from refrigeration has increased exponentially since the 1990s. We choose not to be part of this unnecessary use of energy.
Sustainable Local Supply
Sourcing all our soybeans from USA organic farms has deep social and environmental impact. Shipping shorter distance reduces energy use and pollution. Almost all U.S. soymilks are made of soy from China, Brazil, and Argentina because so-called 'organic' soy from these countries is so much cheaper. American demand for organic labeled food has spurred epidemic deforestation, including burning. Eden is not part of this destructive, unsustainable system. We depend exclusively on trusted local organic growers.
Positive Circles
Every year brings new research confirming the benefits of organic farming, from improving personal health, to preserving rural landscapes, to cleansing the environment. A recent Rodale Institute study found that organic farming might be the most effective tool we have to fight global warming, as organically managed soils show a remarkable ability to mitigate greenhouse gases in the atmosphere.
With a little innovation and a lot of dedication, the positive cycles that organic farming creates can be carried over into food processing. For example, after making Edensoy, the hulls and mash are sent to organic farmers for feed. What's left over — composted manure — goes back to the bean grower to be used as organic fertilizer.
As Eden supports organic farms and asks others to do so as well, we strive to 'walk the talk' and hope that our activities result in a positive net impact on Planet Earth.