» »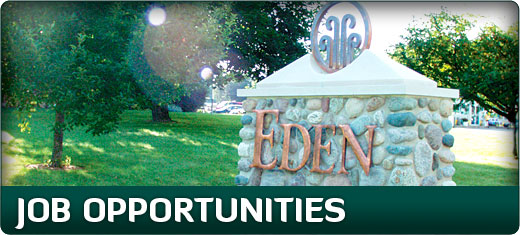 Current Openings
CAREER OPPORTUNITIES WITH EDEN FOODS
We are a principled natural food company seeking quality staff at all levels for excellent career opportunities. We have been doing our important work since 1968 and are a developing organization.
Eden Foods seeks high quality, qualified individuals to help us in our mission. Please contact us about a rewarding career opportunity with an outstanding natural food company that is providing an alternative to the status quo.
Event Coordinator - Eden Foods of Clinton, Michigan seeks a Sales Department professional to manage trade shows and events. Duties include negotiating, purchasing, sales, service, managing customers and vendors. Travel is required for this excellent career opportunity. Candidates will be organized, proactive, have strong written and verbal communication skills, and a well developed business acumen with attention to detail. Please submit resume to: Ms. Sandra Smith - ssmith@edenfoods.com Mr. Demian Potter - dpotter@edenfoods.com
Staff Accountant - Eden Foods of Clinton, Michigan seeks a full-time Staff Accountant; detail oriented with a minimum of 3 years general accounting experience who will assist in areas of financial statements, cost accounting, and inventory reconciliation. Food industry experience a plus, business experience a must. The ideal candidate has general knowledge of accounting principles, a good knowledge of MS Office and FileMaker. Requirements: Knowledge of accounts receivable, accounts payable, and payroll Knowledge of office administration and procedures Knowledge of general bookkeeping procedures Proficient in relevant computer applications 3 years general accounting experience Job description available here.Please forward resume to: ssmith@edenfoods.com
If you think you might fit into one of the following Departments please contact us.
Accounting Department
Administration Department
Information Technology Department
Marketing Department
Operations Department
Production Department
Purchasing Department
Sales Department